Kevin Hughes
Directional Leader and Preaching Pastor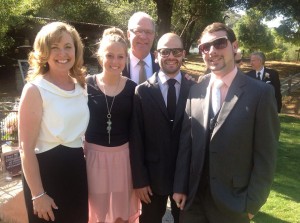 Kevin is a Colorado native of 25 years, a California transplant of 23 years and now an immigrant to St. Louis of 10 years.  His lovely wife, Diane, is from St. Louis and die-hard Cardinals fan. Their three children, Toby, Travis and Tori, are all natives of California, while their trusty dog, Tucker, is from Illinois.
Kevin believes that Jesus really is the hope of the world and that the church is supposed to be His hands and feet in our broken places. Together, we can open up our arms to a world in need of hope – to the skeptic, to the inquirer, along with those who are already convinced… we can engage one another concerning the meaning and purpose of life.
Kevin's two favorite quotes:
"
The higher you climb the ladder of responsibility the more your rear is exposed.
" -Joe Stillwell   "
Life's basic decision is rarely, if ever, whether to believe in God or not; but whether to worship or compete with Him.
"  -Eugene Peterson, The Wisdom of Each Other (p. 24)  
You can email Kevin at Kevin.Hughes@QuestChurchSTL.org.
Karen Woolsey
Children's Ministry Director
Beth Sinak
Director of Communications

Beth's hope for Quest is that it continues to be a light in their community that meets the needs of the people in and around it. Only by building authentic relationships, can we truly share the hope that we have in Christ.
When Beth's not wrangling munchkins, in her free time she loves:
Doing anything art oriented (drawing/painting/photography/ceramics)
Drinking coffee so she can continue to wrangle her munchkins
You can email Beth at beth.sinak@questchurchstl.org.
Jake Schuchardt
Director of Student Ministries
Born and raised in St. Louis, Jake attended St. John Vianney High School. After graduation, Jake attended Colorado Christian University in Lakewood, Colorado. While playing Division II baseball for the CCU Cougars, he studied and graduated with a degree in Youth Ministry and Communication. Currently Jake resides in Crestwood, Missouri and, in addition to Quest, works as the Director of Faith and Character Development for Team Missouri Baseball, is the head JV Baseball Coach at Desmet High School, and is the assistant JV softball coach at Lutheran South High School.
Jake believes that ministry is best done through relationship building. One of the best ways to help others build a relationship with Christ is to simply build a relationship with them. As your relationship with that person grows, they will begin to see Christ in the way you speak, act and think.
Jake's Top Three Television Shows:
1) The Walking Dead
2) House of Cards
3) Parks and Rec
You can email Jake at jakeschuchardt@ymail.com.